Goat 1000 home
Welcome to Goat 1000 - this is where you'll find some of the bits and pieces of software that I cobble together for fun. Please feel free to download them and try them out. All this stuff is freeware, no guarantee that it will do anything, etc. (though if it does fail to do anything, please let me know!)

News
12/01/2017
So it's a new year, and the first new release of the year is... CRCDropper 3.5. The previous version of CRCDropper was released in 2012, so this update might surprise some people. I'm surprised it has been nearly five years since the last time I worked on CRCDropper, but here we are.
Anyway, what does this new version do? The main change is that version 3.5 has a config file: a text file that is stored in the same folder as the CRCDropper executable file and uses the same format and code as used by JPEG Saver. The config file stores the window position and size, the selected hash algorithm and the value of the new options.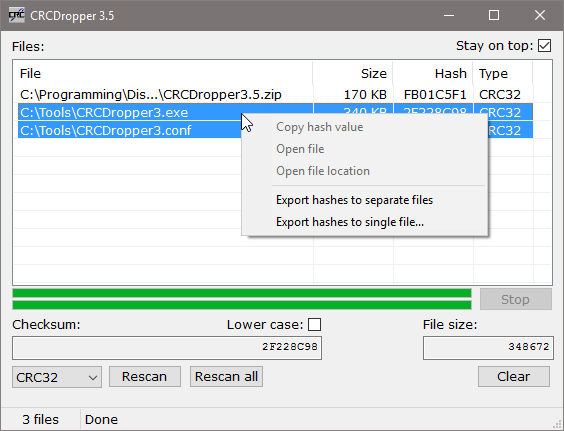 The new options are "Stay on top" to keep the CRCDropper window above other windows, and "Lower case" to output the hash values using lower case 'a' to 'f' instead of 'A' to 'F'.
16/11/2016
Version 4.18 of JPEG Saver does not contain many visible changes, but it does have a couple of updates that I have been promising for quite a long time.
But first, something I have removed from this version is support for Windows XP. Microsoft stopped supporting XP a couple of years ago, so writing software that supports it using Microsoft development tools is becoming more and more difficult. So I decided it was time to give up, and set the compiler to target Windows 7 as the minimum version supported. Checking the Goat 1000 web stats showed that I had even fewer visitors using Vista than XP, so Windows 7 it is.
The first of the promised changes is filtering by tag. The tags JPEG Saver uses are scanned from the EXIF and IPTC keywords fields in the image files at the same time as the width and height, then stored in the database. So if you intend to try filtering by tag, I recommend using the "File » Clear database" option to force a rescan beforehand.
03/08/2016
This version of SVGGraph mainly fixes a few bugs, but I have added one new option too. It doesn't do anything visual, so there is no example graph to show for it.
The new option is datetime_key_format, for use with the datetime_keys option added in version 2.23. This new option allows you to specify a format for parsing your keys instead of relying on PHP recognising the format. The format string is described on this PHP manual page: DateTime::createFromFormat.
The first of the bugs fixed in this version is also related to the datetime_keys option, solving a nasty error when using multiple dataset graphs without structured data.
Sections
JPEG Saver - A screen saver for Windows that displays JPEG, PNG and BMP images.
SVGGraph - A PHP library for generating SVG graphs.
TagCanvas - An HTML5 canvas-based javascript tag cloud.
CRCDropper - A drag and drop CRC32 calculator.
CRCDropper2 - Another drag and drop CRC32 calculator.
CRCDropper3 - « see if you can guess what this does ».
TrayBlank - a small utility for starting the screen saver from the system tray.
Shuffler - a small utility for managing windows.
Snow - a web page background snowfall, using the HTML5 canvas element.
Glowspot - an attempt at replicating Chrome's glowing tabs in HTML and Javascript.
March - a configurable Javascript clock using an HTML5 canvas.
Contact me
If you want to contact me, my email address is at the bottom of the Readme.txt file or PDF in any of the zip files, or in the source of Javascript files, or you could try to figure it out from a combination of my name, (graham) this domain name (goat1000.com) and the @ sign.
About this site
All pages on this site are written in PHP. Syntax highlighting is performed using GeSHi. Titles and sub-titles use the Franchise font, with CSS @font-face files generated by the Font Squirrel @font-face generator.
The site uses cookies, find out more
Site search
The search box on this web site ("Search Box") is powered by Google Inc ("Google"). You acknowledge and agree that Google's privacy policy (located at http://www.google.co.uk/privacy.html) shall apply to your use of the Search Box and by using the Search Box you consent to Google using your personal data in accordance with its privacy policy.
Updated 12/01/2017.